Come indulge yourself in Barefoot Luxury
Costa Rica  | January 13-20, 2018 
This women's retreat is the perfect blend of nature and luxury.
Enjoy authentic nature, and sophisticated pampering, which allows you to fully rejuvenate on all levels of mind, body and spirit. We travel in small groups to give you a full hands on experience of the local culture, yoga and meditation training, and mostly private instructions, and guides.
Limited to 12 spiritually minded women…LIMITED spaces remain.
$500 Deposit secures your Spot!  
 $1912 pp | shared standard rooms  **  $2840 | solo standard room
$2055 | shared luxury rooms ** $3046 | solo luxury room
---
WHAT TO EXPECT
There will be plenty of time for hiking, exploring, learning, and centering. However, this retreat offers you the opportunity to "let all the stress go," pamper yourself in play, deepen your spiritual practices, or just spending lazy days in a hammock.
Our lives create hectic schedules and many demands, so we are offering this retreat so you can "set your inner compass" to a place that has NO DEMANDS or expectations.
YOGA AND MINDFULNESS
When you come into communion with Nature, your inner voice is more easily heard.  Daily group yoga is offered each morning.   We practice Sacred Yoga, which is light stretching, deep breathing, at a pace that sets the tone for simplicity, and going within.
Private yoga sessions are also available.
Meditation practices are offered most mornings, and again in the evening just prior to sunset.  You may also ask for private guidance to deepen your meditation practice, or learn how to establish a home practice after this retreat.
For those who wish to use this retreat as a deep inward journey…
It is my pleasure to assist you in any way with this process.
QUESTIONS??  CALL FOR MORE INFORMATION > 585-672-5250
---
Trip Itinerary
Day 1 (Jan 13th): International Airport – Arenal
Your private guide will be waiting for you at  Juan Santamaría International Airport (SJO), and will transfer you to your hotel.  Our Welcome Dinner will be tonight's experience.
Overnight at Lost Iguana Hotel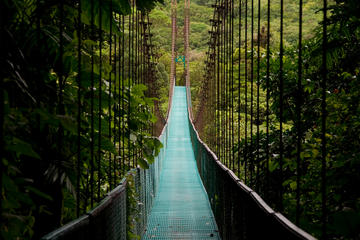 Day 2 (Jan 14th): Arenal/ Místico Hanging bridges
Morning yoga class, followed by breakfast.  Enjoy hiking the nearby the forest and on-site revitalizing paths full of nature and wildlife.  Our resort is located in front of the majestic Arenal Volcano you can admire its beauty, hanging bridges, and the natural habitat that surrounds it. 
The the afternoon is yours to enjoy.  Sunset Meditation is optional. 
Overnight at Lost Iguana Hotel. Breakfast included
Day 3 (Jan 15th): Arenal
Morning yoga class, followed by breakfast. Several optional activities are available today. 
Overnight at Lost Iguana Hotel. Breakfast included
Day 4 (Jan 16th): Arenal – Potrero Beach
This morning you will travel to the beautiful Central Pacific by private vehicle and directly to the pristine Central Pacific, with spectacular beaches.
After checking into your hotel, the remainder of the day will be at your leisure. Evening meditation program optional. 
Overnight at Bahia del Sol Hotel. Breakfast included
Day 5 (Jan 17th): Potrero Beach/ horseback ride tour
Morning yoga class. Continue with the breakfast. Today you are going to enjoy the beach benefits in a horseback ride at the beach.
Horseback tours allow you to experience several spectacular places of Costa Rica.
You will gallop and trot across gorgeous landscapes that vary in difficulty. Imagine riding through a misty rainforest and enjoy the unique natural surrounding and its wildlife! Descend small hills and admire the scenic lockout throughout your journey. Enjoy also a ride along the beach and a fantastic sunset of the Golden Coast right on the beach or on the top of the hills lookout.
The rest of the afternoon is to continue with your retreat activities with the group. 
Overnight at Bahia del Sol Hotel. Breakfast included
Day 6 (Jan 18th): Potrero Beach/ Stand Up Paddle Adventure
Stand Up Paddling (SUP) is the newest introduction to Costa Rican water sports. This new water sport features boards that are made elongated and wide to give boarders the ability to paddle simultaneously with standing up on the board.
With the glow of the sunrise just beginning to peek over the horizon, you'll find yourself on one of Costa Rica's many beautiful beaches preparing for your adventure alongside one of our experienced guides.
Your morning will begin with a quick safety meeting, where your guide will acquaint you with all of the important safety tips and how-to's before you make your way out onto the water. Once you're comfortably paddling along, your guide will help you make your way to a local island. You'll have plenty of time as you paddle to admire the gorgeous colors of the sunrise for around.
No tour of Costa Rica's coastline would be complete without checking out all the sights beneath the water's surface! Once you've arrived at the island, it's into the water for a snorkel. Enjoy an invigorating swim among sea turtles, rays, and colorful tropical fish as the sun makes its way overhead. Next, you'll make your way back to land, where a member of the team will be waiting to assist you with your arrival.
Part of what makes the SUP Morning Tour so spectacular is – you guessed it – location, location, location. Our tours take place in the Guanacaste region of Costa Rica, which is widely hailed as being one of the most scenic parts of the country.
Guanacaste is known for having some of the only beaches along the Pacific Coast with Caribbean-clear water. Imagine paddling along and being able to see nature in action, right beneath your feet! Guanacaste is also world-renowned for its sunrises and sunsets, making our Morning Tour the perfect way to witness a once-in-a-lifetime sight, delivered right alongside a healthy dose of adventure.
The rest of the afternoon is yours to enjoy. 
Overnight at Bahia del Sol Hotel. Breakfast included
Day 7 (Jan 19th): Potrero Beach/ Sunset Sailing Tour
Morning yoga class, followed by breakfast. 
The rest of the day is yours to enjoy…this afternoon and evening however, are you ready to enjoy the red, orange, pink and purple of the magical Guanacaste sunset, while sailing through the ocean?
Live the best Sunset in the area onboard a catamaran. Regular tours sail at 2 pm and return around 6PM after sunset. The captain's great knowledge and experience will make you discover beaches and coves along the coast.
Whether you walk around or just sit on the deck gazing at the sea with a Margarita in hand searching for turtles, manta rays, dolphins or whales, your stay will be memorable.
A short stop in a protected bay to practice snorkeling or walk on the beach is the next step while the crew waits for you with the most delicious snacks such as chicken brochettes, guacamole, refried beans, chips and dips, pico de gallo, fresh fruits and vegetables. All drinks included.
Overnight at Bahia del Sol Hotel. Breakfast  and snacks included
Day 8 (Jan 20th): Potrero Beach – International Airport
Sadly your time in Costa Rica has come to an end. Today depend of your schedule you will transferred you to the International Airport, where you will board your flight back home.
---
RETREAT PRICING
 $1912 pp | shared standard rooms  **  $2840 | solo standard room
$2055 | shared luxury rooms ** $3046 | solo luxury room
$500 Deposit Secures your Space
Your Inclusions
*Arrival Airport Transfer from International Airport to Hotel
*Departure Airport Transfer from the Hotel to International Airport
*03 nights at Lost Iguana Lodge in Arenal (Standard deluxe & Luxury Suites)
*04 nights at Bahia del Sol Hotel in Potrero Beach (Deluxe Superior Suite)
*Daily breakfast
*Mistico hanging bridges park (guide natural hike)
*Horseback riding tour at the beach
*Stand up paddle morning tour
*Sunset sailing tour
*Daily yoga practice by schedule with your host Melinda Johnston
*Private transportation between destinations
*Local taxes
*Wellness gift
---
Trip Leader
Melinda Johnston, M.Msc.
International Author, Inspirational Speaker, Spiritual Philosopher and Coach, Intuitive Healer, Wellness Consultant
Melinda has over 25 years of study and practice in religious culture, practical philosophical, metaphysical sciences and understanding for the historical "webs" of human history, which have impacted most of our modern religions and spiritual practices.
She has created a variety of alternative methods for celebrating life and seeing the "sacred" in simplicity. Her knowledge offers students and clients a unique insight into mindful inner dialogue, which in turn honors and expands one's innate wisdom and allows for one's perfect state of wellness to exist.
Because she is well versed in multiple facets of religious and sacred philosophy, including the Eastern philosophies of Buddhism and Vedanta, Metaphysical consciousness, and the Science of Yoga, her gentle teaching method allows one's self knowledge to expand to deeper level, naturally.
As owner of The Buddhi Institute her goal is to teach practical methods and programs that incorporate mindfulness, along with other ancient wisdoms, for the integration of mind and spirit so a sense of complete wellness arises almost effortlessly into one's day to day living.
Her teaching process is simple, kind, nurturing, and Absolute.  From personal experience, and in years of guiding others, she knows,:
"We all have this wisdom within. Each of us have the Inner Guru that is waiting to Awaken."
---
THIS TRIP IS PRODUCED BY: BUDDHI INSTITUTE  |  LUX WORLD TRAVEL, INC  |  INNOVA ADVENTURE TRAVEL™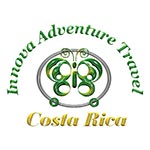 ---
WHAT MORE INFORMATION??? CALL > 585-672-5250
We love chatting with you! : )
Namaste'